In chronological order, this lake has been named:
Ho-Run-Num-Nay( Lake of Little Fishes), Emerald Lake, Lake Louise
Often referred to as a "gem of the Canadian Rockies", Lake Louise holds a special place in the memories of all who have had the chance to stand in awe on the shoreline and gaze out one of the most breathtaking sights in the Rockies.
Known since 1884 as Lake Louise it was 1st known as Ho-Run-Num-Nay, that is Lake of Little Fishes – and so named by Native Stoney First Nations peoples, who knew of it and inhabited the area. They led Tom Wilson ( a worker for Canadian railways ) to the lake in 1882. He renamed it Emerald Lake but, 2 years later it was renamed to Lake Louise in honour of Queen Victoria's daughter. ( There is an Emerald Lake close by in Yoho National Park), and it is another gorgeous Alpine Lake displaying the signature colour of these Canadian Rockies waters.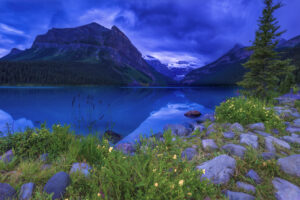 Lake of Little Fishes has a nice ring though, doesn't it! But, regardless of the name, it is the VIEW that will stick in the memory of any viewer. The backdrop of Mt. Victoria and Victoria Glacier, Mt. Fairview ( and a wee bit of Lefroy under the mist and cloud) and the lower flanks of the Devil's Thumb all frame up this stunning lake and contrast its colour and glass-like smoothness on this mornings sunrise.
The morning started under heavy rain but was forecast to break up early – and with a touch of the grace of nature – there it was – a dazzling view of Ho-Run-Num-Nay!
There have been, and there will be more of these "special moments" on the shores of The Lake of Little Fishes – like this one from partway around the lake.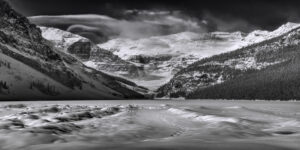 Or like this one from Springtime when the lake is frozen over and covered with snow. When will the lake open up for summer? That is a question the staff at the famous Chateau Lake Louise run a pool on each year, The answer – generally not until the 1sy of June! ( Perhaps that explains the "little fishes" in the Stoney Peoples naming of the lake.)
These are some of the "special moments" I have captured of this very special place known first as Ho-Run-Num-Nay and to all as "a Gem of the Canadian Rockies". It's not the name that makes it memorable, it's the jaw-dropping view.