When I got out this morning the temperature was 3 degrees! While the forecast is for 24 degrees later in the day, this is the 7th day to start with the Chill of Fall here in the Rockies!

Summertime – lazy hazy days, fresh berries, the smell of sunscreen lotion, the buzz of mosquitoes, the wonderful aroma of a Bar B Que – these are a few of the things we equate with Summertime. The Rockies have some other things they offer to the Summertime menu and one is chilly mornings until the sun gets high!
The pandemic of Covid-19 interrupted all of our travel plans, but, as things subsided it was possible to get out and enjoy that precious season – Summertime!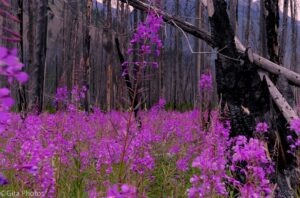 Here in the Rockies, there is little worry about Social Distancing when you go on a hike. As harsh as this climate is for flowers and plants – we still get treats to view and smell when out hiking, yes you can stop and smell the roses!
And there was a stretch of really hot weather for the Rockies. Days in a row of plus 30 temperatures and high, oh so blue, Rocky Mountain sky. There are lakes dotted around the Rockies, and some you can swim in – if you can brave the cool water!.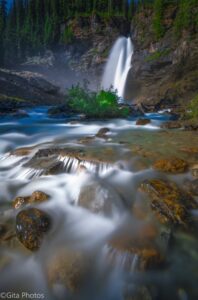 Then there is the natural air conditioning of a waterfall – just sit close by and the mist washes over you and cools you right down.
Or, you can get up high and close to the Glaciers and the cool breeze that flows out and over you – especially in the early morning, as the sun starts to heat the air up. A thermos of hot tea on hand and you can sit by the river of melt-water as the cool fresh clean air fills your lungs and is full of sweet smells.
And, of course, there is the charm of Camping. Waking up by the lake, hearing the loons call and the smoke from the campfire ( yes some campsites have fire pits ) starts to waft on the breeze over the mirror-like lake surface that will soon be rippled by the wind and the Loons playing about.
Hope your summer was enjoyable and you made the best of the situation that Covid forced on us all.